EPP Elections Congress Dublin: first day highlights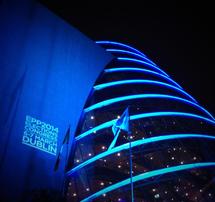 The European People's Party (EPP) today held the first day of the 2014 Elections Congress in Dublin. Nearly 3,000 delegates, guests and journalists took part.
EPP President Joseph Daul, who was elected President by the EPP Political Assembly following the passing of late President Wilfried Martens last autumn, was confirmed as President by a vote of the Congress in accordance with the EPP statutes. Out of 556 valid votes cast, 512 delegates voted to confirm President Daul, while 44 voted against.
The Congress also adopted the EPP Action Programme 2014-2019, which is available on the website of the Congress at
http://dublin2014.epp.eu/
.
In addition, the first day of the Congress featured speeches by opposition leaders from EPP member parties, the EPP's non-EU heads of state or government, and other leading members of our political family. The Congress had the special pleasure of welcoming the leader of Ukrainian EPP member party Batkivshchyna, Yulia Tymoshenko, who was recently freed from prison, as well as UDAR leader Vitaly Klitschko.
Following the closing of the plenary session, EPP heads of state and government, opposition leaders and members of the EPP Presidency convened for an EPP Summit. Following the extraordinary European Council meeting earlier Thursday in Brussels, the EPP Summit addressed the situation in Ukraine, as well as the final preparations for the EPP's campaign for the 2014 European elections.
The 2014 Elections Congress will continue tomorrow morning, 7 March, and will conclude with a vote by over 800 Congress delegates to elect the EPP candidate for President of the European Commission. The proclamation of the winning candidate will take place at approximately 13:00 GMT, followed by a press conference.
Note to the press
Photographs from the first day of the Congress can be downloaded from Flickr
. Videos of the speeches from today's plenary session can be seen on
YouTube
.
For updates on Twitter
@EPPDublin
@EPP

Hashtags
#EPPDublin (for Congress)
#EP2014 (for the European elections)

Note to editors:
The EPP is the largest and most influential European-level political party of the centre-right, which currently includes 73 member-parties from 39 countries, the Presidents of the European Commission and the European Council, 12 EU and 6 non-EU heads of state and government, 13 members of the European Commission and the largest Group in the European Parliament.

For more information:
Kostas Sasmatzoglou, EPP Spokesman, Tel. +32-2-2854147
Javier Jiménez, EPP Director of Press and Communications, Tel. +32-475480446