Council of the EU and Ministerial meetings
The Council of the European Union is the organ in charge of adopting major European decisions and acts normally along with the European Parliament, making it like that, a true law-maker of the EU.
It is composed of a representative from each member country of the branch or field under consideration; generally a Minister or a Secretary of State.
Although the Council is a single body, it meets in different configurations according to the issues being discussed. There are currently ten configurations which are:
General Affairs;
Foreign Affairs;
Economic and Financial Affairs;
Justice and Home Affairs;
Employment, Social Policy, Health and Consumer Affairs;
Competitiveness;
Transport, Telecommunications and Energy;
Agriculture and Fisheries and Environment;
Education, Youth, Culture and Sport.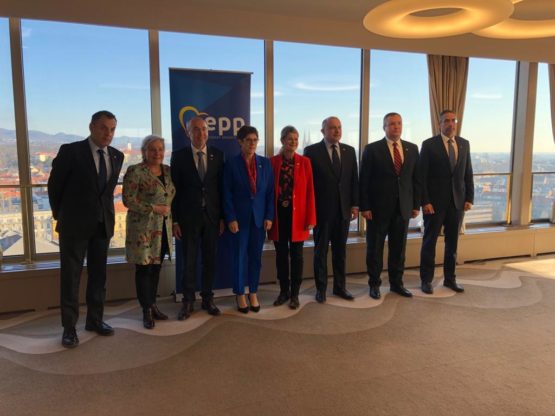 Since 2007, the EPP has organised EPP Ministerial Meetings previous to the meetings of the Council of the EU. These Ministerial Meetings are an offspring of the EPP Summit and gather EPP ministers of attending the Council who are often joined by Commissioners and MEPs of the respective fields. As with the EPP Summit, the aim of the Ministerial Meetings is to discuss and harmonise the positions of EPP ministers towards the full meeting of the Council but besides that, they have played an important role in drafting declarations and resolutions that have been later approved by the EPP Congress and promoted as a whole in the Council. The first Ministerial Meeting to be inaugurated in 2007 was that of Ministers of Foreign Affairs under the leadership of Franco Frattini, then Italian Minister of Foreign Affairs, and Elmar Brok, MEP (CDU-DE), chairman of the Foreign Affairs Committee in the European Parliament.
The success of this meeting was followed in 2008 by the inauguration of a meeting of Economy and Finance, chaired by then-EPP Vice President and Finnish Finance Minister Jyrki Katainen.
The EPP currently holds the following Ministerial Meetings:
Foreign Affairs – chaired by David McAllister, EPP Vice-President, MEP (DE) and Simon Coveney, Minister for Foreign Affairs and Trade (IE)
Defence – chaired by Jüri Luik, Minister of Defense (EE)
General Affairs – chaired by Helen McEntee, Minister for European Affairs (IE), and Karoline Edtstadler, Federal Minister of State for European Affairs (AT)
ECOFIN – chaired by Valdis Dombrovskis, Executive Vice-President of the European Commission (LV), and Paschal Donohoe, Minister of Finance (EI)
Interior – chaired by Peter De Crem, Minister of Interior (BE), and Esteban Gonzalez Pons, MEP (ES)
Justice – chaired by Koen Geens, Minister of Justice (BE)
Agriculture – chaired by Michael Creed, Minister for Agriculture, Food and the Marine (IE)
Energy – chaired Jerzy Buzek, MEP (PL)
Health – chaired by Jens Spahn, Minister of Health (DE)
Trade – chaired by Margarete Schramböck, Federal Minister for Digital and Economic Affairs (AT)