European Council & EPP Summit
The European Council is the highest body in the European Union in charge of defining the "general political directions and priorities" in the EU. It is composed of the heads of State and government of each Member State and it's chaired by a President of the European Council.
In this sense, the most important event for the EPP is our EPP Summit, which prior to the European Council gathers all EPP heads of State and government and other major leaders of the party (one per country) in the following order of precedence according to the party statutes:
The Head of State and Government belonging to an EPP member party;
The highest-ranking member of the government belonging to an EPP member party (for example, a Deputy Prime Minister);
The leader of the largest opposition party belonging to the EPP.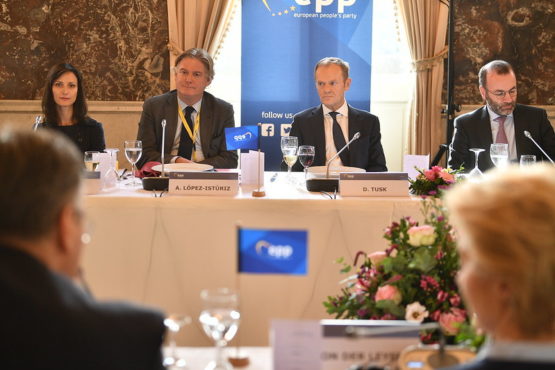 The EPP Summit is also attended by the whole EPP Presidency and by the Presidents of the European Parliament, European Commission and European Council, as well as the High Representative for Foreign Affairs provided that they belong to the EPP. The President of the EPP can also invite other personalities to the EPP Summit. The EPP Summit allows leaders from our political family to discuss and prepare an agenda, and reach common positions, prior to meetings of the European Council. It allows them as well to discuss the political situations of EU and non-EU countries from the standpoint of the centre-right political family.
The history of the EPP Summit traces back to 1980 when EPP President Leo TINDEMANS called for a leaders meeting in Strasbourg and then again a new meeting was held in 1983 in the Château Val Duchesse in Brussels; but it wasn't until 1986 at the insistence of German Chancellor Helmut KOHL, that this leaders meetings became a constant matter. The first of those meetings, which then were called Conference of Party and Government Leaders, met in the Palais d'Egmont, in Brussels and all the Christian democratic leaders of the time took part: KOHL (Germany), Wilfried MARTENS (Belgium); Ruud LUBBERS (Netherlands); Jacques SANTER (Luxembourg) and Garret FitzGerald (IRELAND). There are normally two configurations of the EPP Summit: the Statutory Summit in which only leaders of EU Member States take part and the Enlarged Summit, to which non-EU leaders are also invited.
It normally takes a few hours before the European Council but extraordinary Summit are not uncommon. A traditional place for the EPP Summit to meet in Brussels is the Palais des Académies.